Today I walked through the Campus Martius, the part of ancient Rome a bit away from the a Roman Forum and Colosseum with picturesque narrow streets centered on the Pantheon. As the population of Rome exploded under Augustus and the peace and prosperity he brought to Rome, this area is where Rome expanded into. A few stops along the way landed me near a great coffee shop near the Pantheon, Tazzo D'Oro, where I had a superb morning coffee and a couple rolls. Here in Rome, they often use about triple the number of beans that we would use at home, making very strong coffee. I've gotten used to it, and even like it (a lot) but at Tazzo D'Oro the bitterness isn't overwhelming.

Next I saw another of the "Talking Statues", a couple of small fountains, and Piazza Navona, where I enjoyed the details I'd passed over in my prior visits to Bernini's Fountain of the Four Rivers. It's nice this trip to already know these places, so not be overwhelmed by it all, and therefore able to take in the subtleties I missed before, like the fact that there are fish sculpted into the basin at the bottom of the fountain that drain the water out through their wide-open mouths.

A couple churches later it was 10:30, and a new attraction was open (it had been closed when I tried to see it at 9:00). It was a small section of the Circus Agonalis, the racetrack that evolved into Piazza Navona over the past millennium-and-a-half. A photo of this area is below, showing a stairway which would lead into the grandstands. Last year, I watched as they were restoring this space, behind scaffolding, all under street level. A worker saw me trying to see and came out to open the gate and let me get closer to the restoration work. Today, for the much better view of the completed work, I paid 7 euros. They have a display of Gladiator relics so they can attract more visitors than the stadium remains could attract on their own.

The nearby Palazzo Altemps museum was loaded with the ancient Roman sculptures I like so much, and after that I walked a ways to the lunch restaurant I'd selected -- it was built into one of the vey few remaining vestiges of the Theater of Pompey, the huge theater built around 80 BC or so, which you might recall from a week ago had the small auditorium at the back where Caesar was stabbed. I ate lunch in this restaurant under the seats of the theater, something like the space under the upper deck at a baseball stadium.

The Barracco Museum was my next stop, as it was by now very very hot and the indoors would beat the outdoors easily. It was a small museum of a rich guy's collection of ancient pieces, from 2500 BC Egyptian through 500 AD Roman. It was a very enjoyable museum, though quite small, because they really did it right. Not only was everything labelled in Italian and English, but each room had laminated cards in several languages that explained about 10 of the 50 pieces in that room in detail.

The Crypta Balbi museum was next. I didn't understand much of what I saw last time I went to this museum, and didn't really plan to return, but it was so very hot, and was included with my ticket to the Palazzo Altemps so I thought I'd give it another go. Well this is an absolute contrast to the Barracco Museum. The underground is supposed to be the highlight of this museum, an excavated part of the Theater of Balbi, but there are very few signs explaining anything and about all I was able to walk away with is that I toured a large medieval row of cisterns. Can hardly wait to update my web site on this one, emphasizing it should be avoided.

Next up were the markings in the pavement that I missed before near an obelisk that Augustus built as a sundial, then a couple small fountains, and finally the Trevi Fountain. The Trevi is covered with scaffolding as it is being restored, and you can watch the workers cleaning off bits of the grunge and walk across a temporary metal bridge that takes you over the water basin to about 20 feet from the wall of sculptures which you're normally be about 50 feet from. It's an interesting way to make an attraction still be an attraction while it's being restored. They even have a small temporary pool of water for you to throw a coin into, over your shoulder, to guarantee your return to Rome someday.

So hot hot hot that at this point I caught the subway back to my hotel, took a shower, and cooled off before coming back out for dinner. It's dark now, and cooled off nicely. I'll ride the subway up to the Triton Fountain and walk up Via Veneto, which was THE hotspot of nightlife in Rome during the 1950s. Now it's just expensive hotels, but it's a pretty street and might give me some nice nighttime photos.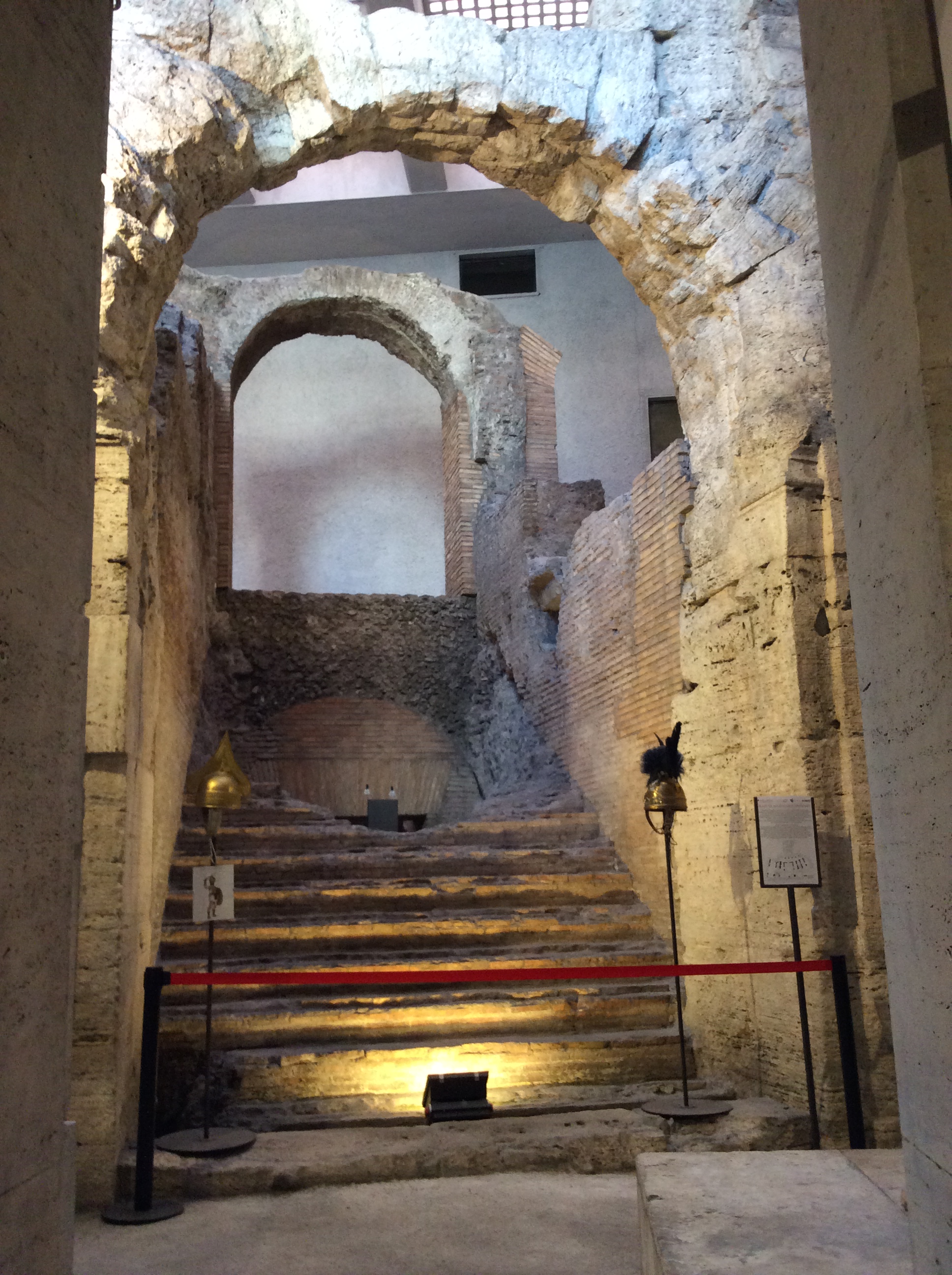 [Previous entry] [Next entry]