A Tourist in Rome - Borghese Gallery
| | |
| --- | --- |
| Location:: | 41.91409, 12.49205 Eastern edge of the park named Villa Borghese |
| Metro:: | 20 minute brisk walk from Barberini, or take bus #910 about about 15 minutes north from Termini |
| Time:: | 2 1/2 hours |
| Cost:: | €11 |
| Hours:: | Tuesday-Sunday 8:30 AM - 7:30 PM, closed Monday |
| Audio Guide:: | Excellent |
| Photos:: | Prohibited |
The Borghese Gallery (Galleria Borghese), shown in the photo below, is my favorite art museum in Rome, by far. The ground floor of the museum is the outstanding part. It consists of 8 rooms, most of which have a single spectacular sculpture in their center. Several are by Gian Lorenzo Bernini, such as ones described in detail below. Surrounding the central sculpture in each room, along the walls, are paintings and other smaller sculptures. The second floor is a gallery of paintings, which are quite nice, but not as spectacular as the ground floor sculptures, in my opinion.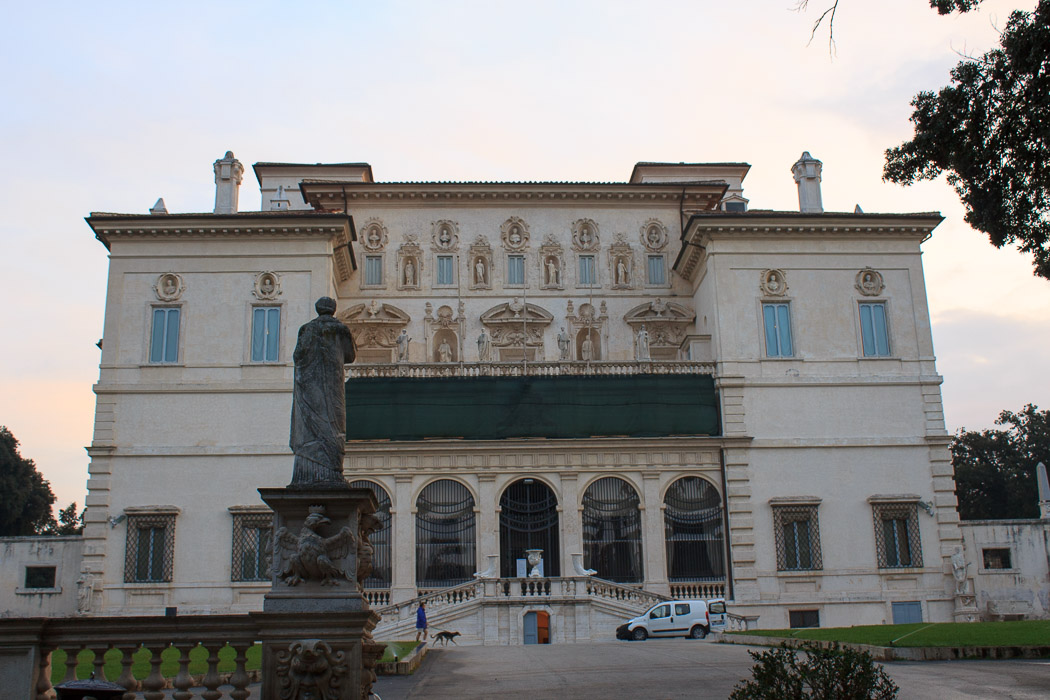 Don't confuse the Borghese Gallery, which is a museum, with Villa Borghese, which is the large, 148-acre park that the museum is located at the eastern edge of. You must reserve a ticket in advance to get into the museum; entry times are about two hours apart. Even with your timed reservation, you must arrive 30 minutes early to pick up your entry ticket; otherwise they start selling the unclaimed tickets to those waiting in line. About one or two hundred people are allowed entrance at each of those times. Once admitted, you are permitted to stay inside the museum for only two hours; I wish I'd had longer. Unfortunately, you are not permitted to take photos in the Borghese Gallery.
I found the audio guide well worthwhile, and recommend it highly. For me, seeing everything mentioned in the audio guide took about 90 minutes. Then I went through the ground floor again because the sculptures were the most beautiful I'd ever seen. That took up my 2 hours. If I go again, I'll spend some time in each room looking at all the artwork that isn't mentioned in the audio guide.
To get to the Borghese Gallery, I took bus #910 from in front of the Termini train station, about 6 stops to the Pinciana/Museo Borghese stop. It's about a 10 or 15 minute ride. This is described well on RonInRome's excellent getting to the Gallery Borghese page.
There are eight sculptures by Gian Lorenzo Bernini in the Borghese Gallery; four are shown in the photos below. Bernini's sculptures are extraordinary because of how life-like they are.
In 'Aeneas, Anchises and Ascanius', Bernini depicts the strong man in his prime, Aeneas, as he flees from Troy which is being burned by the Greek army, carring his elderly father, Anchises, and leading his young son, Ascanius (photo below), as told near the end of Book 2 of Virgil's Aeneid. Anchises carries an urn with his ancestors' ashes, and two tiny satues of Roman household gods. Ascanius holds the sacred fire from the household hearth. They will flee to Italy, where Aeneas will become a progenitor of Rome. Bernini portrays the age of Anchises' skin and the youth of Aeneas' skin perfectly and naturally. As a sidenote, Julius Caesar's family claimed descent from Aeneas. This sculpture is the earliest (1618-1619) of the four major Bernini sculptures in the Borghese Gallery, and is one of his earliest works. In comparing this to the other three works, you'll find this to show the least movement.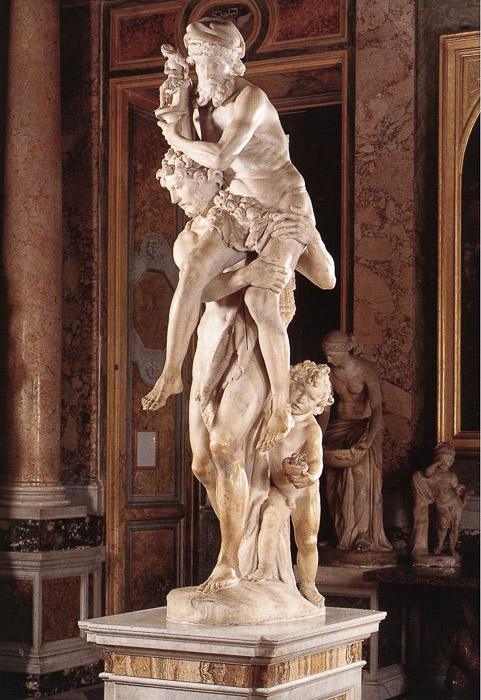 Bernini sculpted the 'Rape of Porsepina' (photo below) next, in 1621-2, and the difference between it and Aeneas is striking, with motion dominating the scene. The sculpture illustrates the story of Pluto capturing Porsepina and forcing her to live in hell for six months of the year. Frozen in marble is the moment when Pluto grabs her around the waist while she tries to flee. The impression of Pluto's fingers into Porsepina's skin makes the stone look like soft flesh. Pluto is astonished and also amused that she tries to struggle. Porsepina's body is twisted as she attempts to escape, and her hand pushes into his face and creases his skin. A tear rolls down her face, which displays her anguish. The three-headed dog guarding the gates of hell makes it clear that she is about to be taken back into the underworld.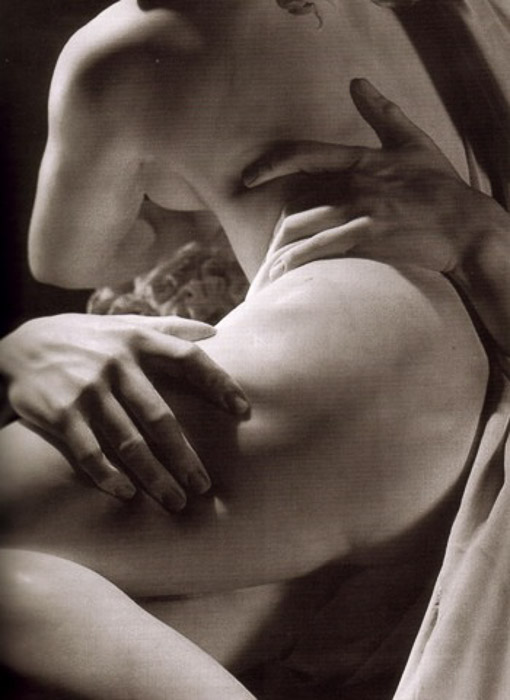 The best sculpture, in my opinion, is 'Apollo and Daphne' (photo below), sculpted in 1622-5. The scene depicted comes from Ovid's Metamorphoses, and shows the instant in which Apollo is about to catch the chaste nymph Daphne after she has begged her father to change her form so she can escape, and he responds by transforming her into a laurel tree. The sculpture animates the story like a movie if viewed first from behind Apollo, who looks to be moving quickly, though we don't yet know why. As we move around, we get our first glimpse of Daphne, who he is chasing. Continuing around to the front of Daphne, we see that she is mostly woman, but can see the beginning of her transformation in the roots that grow from her toes. We see Apollo's hand curving around her body to grab her, but in the very spot his hand touches her, the bark has already covered her skin. Continuing around, Apollo is hidden from view and Daphne has almost completely melted into the illusion of a laurel tree. From the successive angles of view, Bernini was able to tell a story as if one piece of marble could show multiple points in time. Apollo's and Daphne's expressions add drama to the story, their bodies are a whirlwind of motion, and it is hard to believe that many details of the sculpture, like the branches bursting with leaves between their bodies, were sculpted from stone.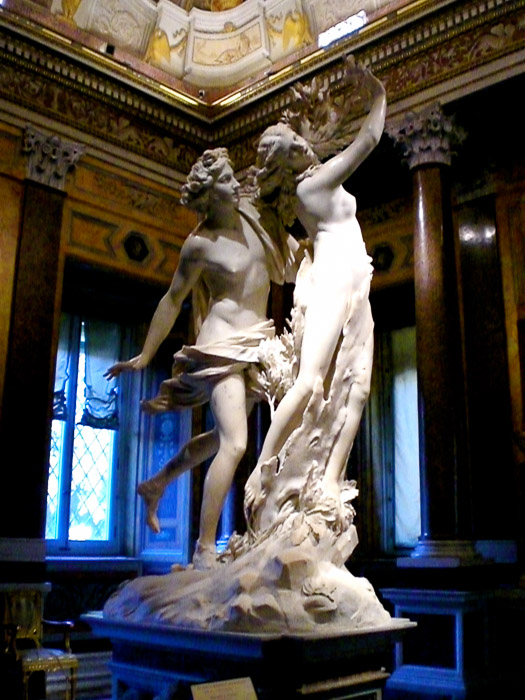 The last of the four statue groups, chronologically, is 'David' (photo below), created in 1623-4 when Bernini was 25 years old. Every muscle in David's body is wound tight, at the moment when the action is most intense, ready to shoot his slingshot with every ounce of power he can muster at Goliath. We see that his face is furrowed in concentration, and even that he is biting his lip. This contrasts heavily with Michelangelo's David, who is shown before the action begins, with his weight back on one leg as he stands in thought.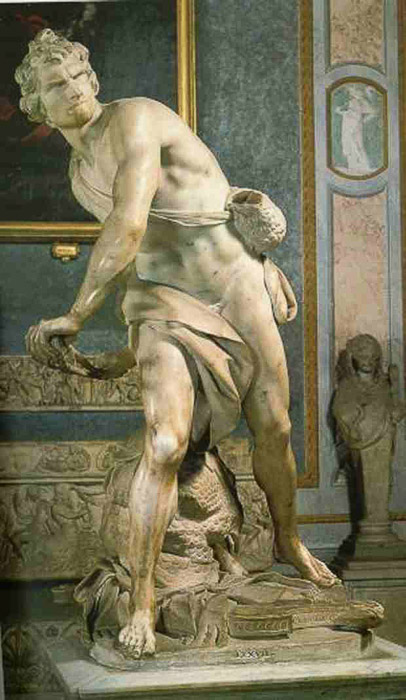 You must see these works of art in person to get the full impact. The other four Bernini works are 'Truth Unveilded by Time', 'The Goat Amalthea Nursing the Infant Zeus and a Young Satyr', 'Bust of Pope Paul V', and 'Bust of Cardinal Scipione Borghese'.

Of course, there are many other fabulous sculptures and paintings in the Borghese Gallery, like the superb Pauline Bonaparte, by Canova; Bernini is just my favorite.

See also:
---
If you'd like to support my effort in creating this web page, or own a copy of this site in Kindle format for offline usage, please buy my Tourist in Rome ebook (it's cheap, I promise), or my other ebook.
---
[Home] [Disclaimer] [Licensing] copyright (c) 2012-2023 by Jeff Bondono (email: Jeff.Bondono@gmail.com)
Please email Jeff.Bondono@gmail.com to report bugs or send comments