A Tourist in Rome - Sistine Chapel
I'm not going to attempt to explain the Sistine Chapel better than the Wikipedia articles about the ceiling and about it's history, but I can give you these clues to orient yourself to what you're seeing. First, running down the spine of the ceiling (1st photo below) are 9 rectangular scenes from the old testament. Starting at the front of the chapel (the right side of the 1st photo below), the 9 rectangular panels show
The Separation of Light and Darkness
The Creation of the Sun, Moon and Earth
The Separation of Land and Water
The Creation of Adam (the famous image of God reaching out to touch Adam's finger)
The Creation of Eve
The Temptation and Expulsion
The Sacrifice of Noah
The Great Flood
The Drunkenness of Noah
Beside that central spine are alternating squares which show the Prophets (the largest figures on the ceiling) and triangles which show the Ancestors of Christ.

At the end with the altar is the huge painting of The Last Judgment (center of 1st photo below), painted 23 years after the ceiling, which shows how the righteous (on the left) are carried up to heaven and the wicked (on the right) are pushed down for their punishment. If a long study of this grim wall with no one smiling can't make you straighten up and fly right, you might want to give up trying. Is that Charon the ferryman at the bottom, just right of center, wacking people with his oar? And Jesus, at the center near the top, with Mary under his raised right arm, is he a completion of the Belvedere Torso?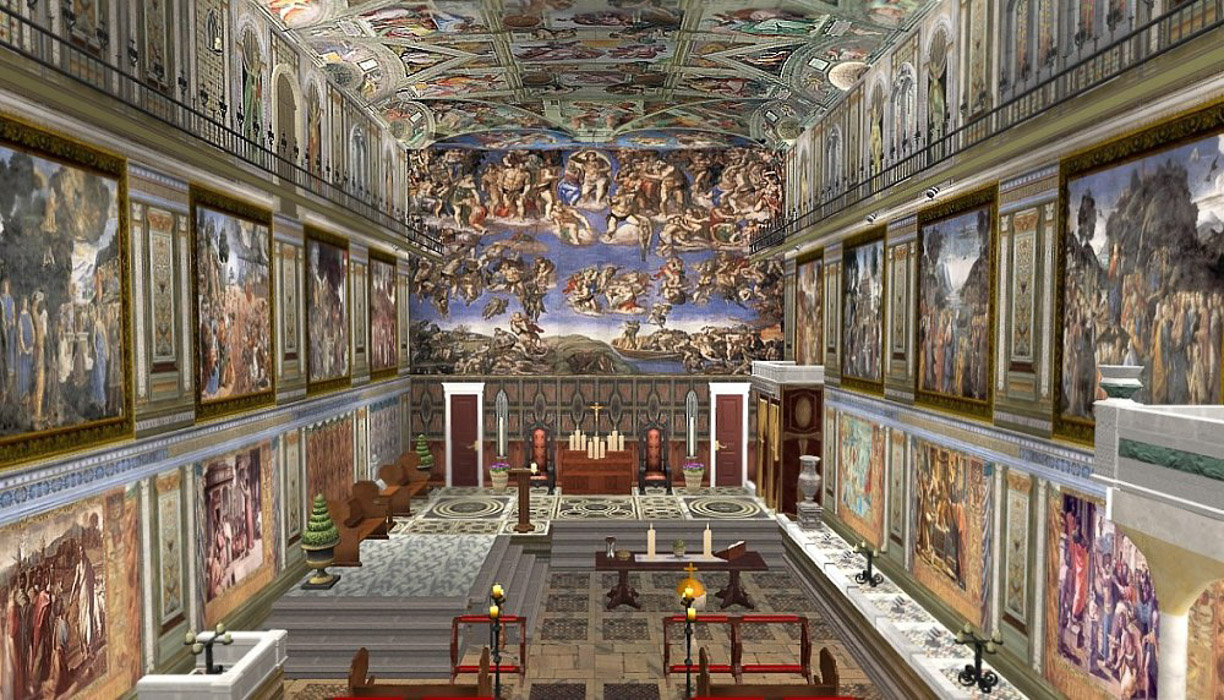 See also:
---
If you'd like to support my effort in creating this web page, or own a copy of this site in Kindle format for offline usage, please buy my ebook (it's cheap, I promise), or my other ebook.
---
[Home] [Licensing] copyright (c) 2012-2021 by Jeff Bondono (email)
Please report bugs or send comments