A Tourist in Rome - Tomb of Bibulus
| | |
| --- | --- |
| Location: | On the grass to the left of the front steps of the Victor Emmanuel Monument |
| Metro: | Colosseo |
| Time: | 10 minutes |
| Cost: | Free |
| Hours: | Viewable at any time from the street |
On the grass to the left of the front steps of the Victor Emmanuel Monument (that is, on the side toward Trajan's Column) is one wall of a funerary monument from somewhere between 100 BC and 50 BC. Most of the monument is buried, only one wall of the top layer is above ground. The front of the monument, from Via dei Fori Imperiali, across the street from Trajan's Column, is shown in the 1st and 2nd photos below. The back of the monument is shown in the 3rd and 4th photos below, taken from part way up the Victor Emmanuel Monument and from the street level walkway behind the monument, respectively. The part of the monument above ground is about 15 feet high, out of the total 48-foot height. The entire monument was excavated in 1907, but the bottom part was re-buried. The doorway between the two columns was probably a niche for a statue.
The photo below shows the left edge and contains the ancient inscription. The part of the inscription which remains is
C POPLI
VIRT
CONV
MONVM
EIVS INF
which is the left edge of the full text that reads
C PO[p]LICO L F BIBVLO AED PL H
VIRTVTQVE CAVSSA SENA[t]US
CONVLTO PO[pu]L[i]QVE IVSSV LOCV[s]
MONVMENTO QVO IPSE POSTEREIQVE
EIVS INFERRENTV [r pu] BLICE DATVS EST
which translates as
By decree of the Senate and enactment of the People
this place was granted at the public expense
to Gaius Publicius Bibulus, son of Lucius, Plebeian Aedile
by reason of his merit and valor, for a monument
wherein he himself and his descendants might be laid to rest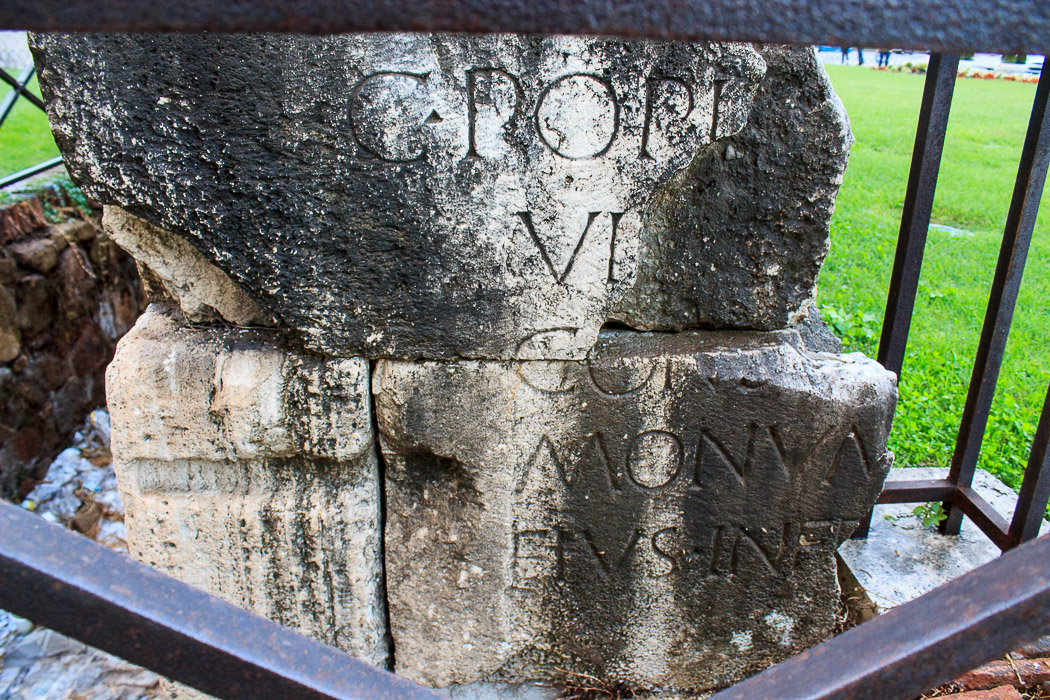 Gaius Publicius Bibulus became tribune of the plebs in 209 BC. It was the law in ancient Rome that tombs must be built outside the city walls, and it was customary they not be built for some distance beyond the walls, but this tomb was permitted about 100 yards north of the probable site of of the Porta Fontinalis in the Servian Wall, suggesting that Bibulus was highly respected, or perhaps died in office. Since Gaius Publicius Bibulus lived in 209 BC and the present tomb was built between 100 BC and 50 BC, it is presumed to be a rebuilding of the original monument undertaken by the family to emphasize their honor.

See also:
---
If you'd like to support my effort in creating this web page, or own a copy of this site in Kindle format for offline usage, please buy my ebook (it's cheap, I promise), or my other ebook.
---
[Home] [Licensing] copyright (c) 2012-2021 by Jeff Bondono (email)
Please report bugs or send comments