Today I departed for my vacation in Greece. The flights to/from Greece were about $700 less expensive from Toronto Pearson Airport than from Detroit Metro, so here I am near gate E79 at Pearson awaiting my red-eye to Athens. The day of travel is always stressful for me. Traffic near the airport was heavy, I couldn't find an ATM in my bank's network, and the parking lot I'd "reserved" a spot in was full. But they upgraded me to their "valet" lot at the "economy" price I'd reserved so I guess that's ok. I hate to leave my car keys with someone, though.... more stress.

My lovely wife took my picture (see below) as I was leaving... thought you might like to see how I pack for 3 weeks in Greece, with only a backpack and my camera bag. The backpack is 22 pounds and holds tripod, toiletries, 2 shirts, 2 underwear, 2 pairs of socks, and one pair of shorts, plus a hiking rain jacket and rain pants (actually, church pants since many churches won't let you in with shorts), plus my toys for backing up my photos, connecting everything to internet, even wired if needed, rechargers for everything. 22 pounds is the limit for carry on luggage on Air Canada and RyanAir, who will be torturing me later in the trip, so that's my limit. I will not check luggage and wait for its arrival. I've had luggage lost, luggage wet, and luggage smashed, and I don't need the problems. Beside, I'll be on the move a lot and would prefer to haul 22 pounds on my back than a 50 pound suitcase. Oh, and the camera bag is about 9 pounds normally, but stuffed up to 12 pounds to reduce the backpack weight. And I'm wearing a set of clothing, and my only shoes. I'll be washing the day's clothes in my sink each night; everything I've taken air dries in a max of 8 hours.

Anyhow, gotta go worry about whether I'll be able to sleep on the cramped plane. I land at 2:20 AM, which turns into 9:20 AM in Greek time, and need to be ready to get my rental car, start driving, and see my first sights at Eleusis on my way to Delphi. Hate the travel day.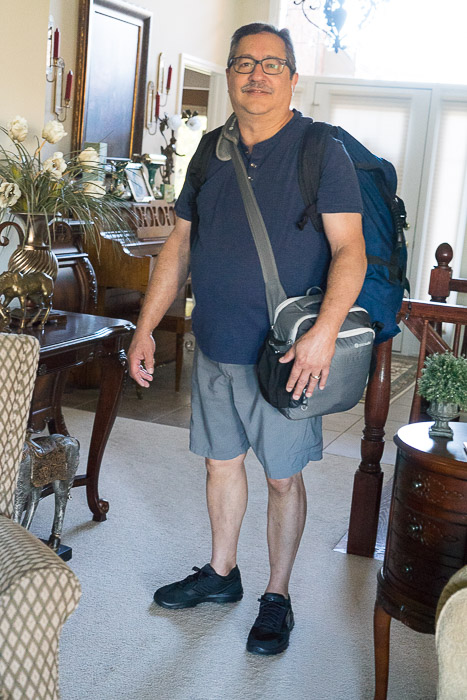 [Previous entry] [Next entry]