I slept about 4 hours on the plane from Toronto to Athens last night, you know the drill if you've ever done a red-eye flight: 20 minutes of sleep, 10 minutes awake, over and over. But I landed just fine, found the ATM to withdraw some euros, bought a Greek SIM card for my phone, rented my car, and was on my way at about 11AM.

The plan was to drive to Delphi today, with a 3-hour stop for lunch and to see the ancient Sanctuary of Demeter at Eleusis to fill out the full day. I ate lunch first, then followed the GPS which I'd programmed with the latitude and longitude of the ancient site (there's no addresses for these things). The GPS pointed me onto what turned out to be a pedestrian street. I realized it pretty soon, but as I backed back out of the pedestrian zone I turned too sharply as the road curved and my front bumper caught one those metal studs that divide roadway from sidewalk. It pulled the bumper loose on one side. Ok, no big deal, I thought, I'll have to settle it up with the rental car company and my credit card insurance once I get home, but onward and upward with the plans.

I saw the ruins of the Sanctuary of Demeter (goddess of grain and harvest); nothing too special but then, I didn't expect much. It was just a filler on the way to Delphi. A couple shots are below.

Then things got serious when the car started wump wump wumping at only 80 km/h. I stopped, figured out how to activate the SIM card I'd bought in the Athens airport for this iPhone, and phoned my loving wife for a shoulder to cry on. Then I phoned the Avis emergency service, hoping they'd drive out with a replacement car, but learned they don't work on a Sundays here in Greece. I considered ripping the darned bumper off the car, but instead stopped at a freeway rest stop. A nice gas station attendant (you never pump your own gas here, apparently, they try to keep people employed instead) brought out some tape and taped the bumper to the side of the car. He slapped his hands together and said "now no more problem". I thanked him with some euros and drove on. Slowly.

Then I had one of those moments where your gut just drops out of your body and splatters on the floor. I recognized the name on an exit sign, and it was for a place I'm not supposed to see for another 9 days -- totally the wrong direction, not anywhere near the road to Delphi. Here, stuck at 80 km/h. Jeez, this vacation was a great idea.

I really had no idea what to do at this point. I was in way over my head. Avis was not going to help. It was 6 hours to Delphi, according to newly-typed-in coordinates, and that assumes the speed limit of 110-130 km/h, my time would be much longer at 80 km/h. The bumper would never make it. What a stupid series of mistakes to have made to get myself into this state. Totally alone, broken down, and lost in a strange land. The GPS is really no good for getting the big picture, and my phone couldn't access data out wherever the hell I was. I drove back to the rest stop, bought a map, and asked someone where I was.

I decided to drive back to Athens airport, hoping to make it before the rental car returns area closed for the night. GPS told me it was 2.5 hours, to make a long story a little shorter, I made it in 3.5 hours. Along the way I did get a nice view of the Sea of Corinth. But there's industry along much of the coastline, so its hard to get a decent photo, especially from the side of a freeway, while rushing.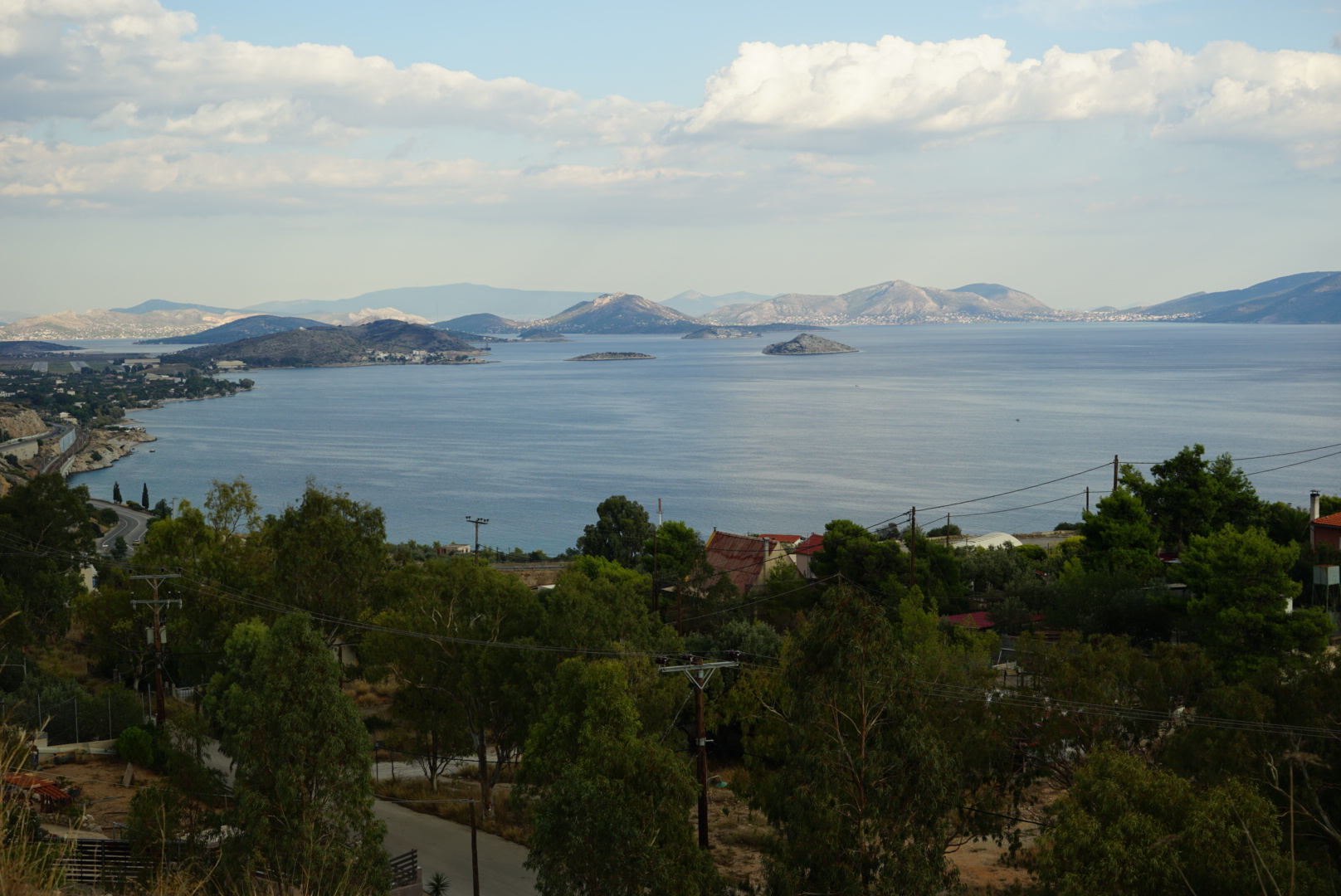 I returned the car, was given a replacement car, and started looking for a hotel, with the intention of starting my journey to Delphi fresh tomorrow morning.

That took 90 minutes. A Holiday Inn a few miles from the airport wanted 175 euros, that's something over $200, too rich for me even after 4 hours sleep and what had turned into a nearly-6-hour nightmare drive. My phone found another spot about 10 miles on the way to Delphi (if there really even is such a place), I called them and they had a room for 40 euros. I typed their address into the GPS. It took me down very narrow streets with cars parked along them, narrow enough that when I made turns (it was dark by now) I was really worried about scraping something. Turn after turn. Some turns were onto streets I couldn't recognize as streets, so I missed them. "Drive 500m, then turn right and right again". This went on for way way too long, until I finally arrived at destination. But there was no hotel, it was just another super-narrow street with apartment buildings. I phoned the hotel again but we couldn't communicate where the hotel is or where I was, let alone how to get there from here, wherever "here" was. Jeez, vacation is fun!

Asked the GPS for nearby hotels, one was 2 miles away. I just followed the GPS directions and indeed there was a small neighborhood hotel there. The room was reasonable, and has turned out to be clean, though the mattresses seem lumpy and uncomfortable. FaceTimed my lovely wife, then started typing this fiasco of a day.

My plan was to see Delphi tomorrow, and see a nearby monastery and hike to a legendary cave the next day, then leave on Wednesday for Olympia. Instead I'll drive to Delphi tomorrow, seeing the monastery along the way, then see Delphi itself Tuesday, and skip the cave.

It has been a very frustrating day, one thing piled on top of the prior and the prior and the prior. I expect the bed to fall through the floor when I lay down in a few minutes. But I guess on the bright side, I haven't gotten hurt, and after a hopefully-good night's sleep, I'll find myself where I started this morning. Still, I can't help but feel this was a very bad day.

[Previous entry] [Next entry]