A Tourist in Rome - Temple of Hercules Victor
| | |
| --- | --- |
| Location: | Via Petroselli, in Piazza Bocca della Verita |
| Metro: | Circo Massimo and Bus #160, or see it on my To the Forum Boarium and Beyond Walking Tour instead |
| Time: | about 10 minutes |
| Cost: | Free |
| Hours: | Any time, view from street, no admission into temple, well-lit at night |
The Temple of Hercules Victor (1st photo below) is a beautiful small round late-republican-era temple which overlooks the Tiber River in a park-like area across the street from Santa Maria in Cosmedin. You'll often see the temple misnamed as the Temple of Vesta since it is a small round temple, but the temple was actually dedicated to the Hercules Victor, called Olivarius. The real Temple of Vesta, which was a similar-looking round temple, probably leading to the confusion, is in the Roman Forum. The 2nd photo below shows the temple from a viewpoint slightly to the right of the 1st photo, and shows a column which is missing, but has a base, near the right edge of that photo. The Temple of Hercules Victor was built around 120 BC and was one of the first Roman buildings to use Pentelic marble, and is the earliest surviving marble building in Rome. It was an expensive temple to build due to the rarity of the marble used, and was of Greek design. The two windows on either side of the doorway were part of the original temple. It is 48 feet in diameter, surrounded by a ring of twenty beautiful Corinthian columns 35 feet tall (3rd and 4th photo below). The north side of the temple was badly damaged in the mid-1st century AD, and ten columns had to be replaced in white Italian (Luna) marble, along with one capital on the south side. The new capitals were of a slightly different design than the originals (see left column in the 3rd photo below).
The roof is not original and is sometimes referred to as a Chinese hat (best seen in the 1st photo below). During the Middle Ages the temple was turned into the small church of St. Stephen of the Carriages, and this helped preserve the temple for our time. It was last restored in 1996. The Temple of Portunus is next to the Temple of Hercules Victor, and the Fountain of the Tritons is in the same park-like area (2nd photo below). The front door of the temple is made of glass so you can peek through to the artwork on the wall inside (3rd photo below), although the glare off the glass makes it difficult to see much. The temple is nicely lit at night (4th photo below)
Another very small Temple to Hercules once stood nearby, where the buildings to the left of and behind the church of Santa Maria in Cosmedin now stands. The statue of Hercules now in the Capitoline Museum (1st photo below) once stood in that second temple, of which nothing remains.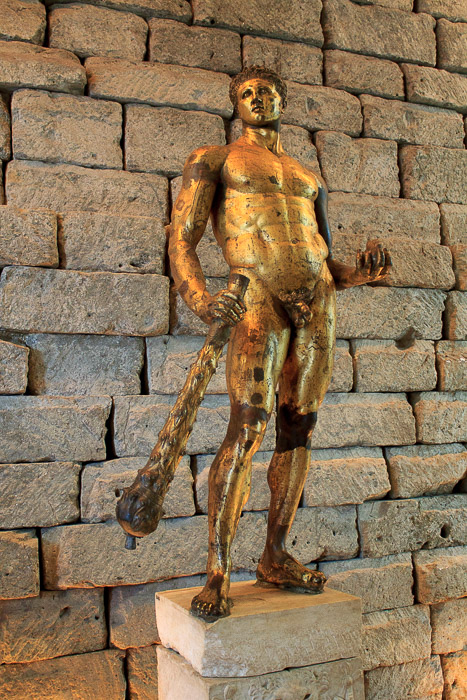 See also:
---
If you'd like to support my effort in creating this web page, or own a copy of this site in Kindle format for offline usage, please buy my ebook (it's cheap, I promise), or my other ebook.
---
[Home] [Licensing] copyright (c) 2012-2021 by Jeff Bondono (email)
Please report bugs or send comments