A Tourist in Rome - National Museum of Rome - Palazzo Massimo
| | |
| --- | --- |
| Location:: | Half way between the Termini metro stop and the Repubblica metro stop |
| Metro:: | Termini |
| Time:: | 2 hours |
| Cost:: | €10, includes admission to the other three buildings of the National Museum of Rome |
| Hours:: | Tuesday - Sunday, 9:00 AM - 7:45 PM |
| Audio Guide:: | Yes, for €5 |
The Palazzo Massimo is one of the four buildings which are part of the National Museum of Rome, along with Terme di Diocleziano, Palazzo Altemps and Crypta Balbi. Palazzo Massimo houses Greek and Roman sculptures (the world's most important collection of Classical art), a huge collection of frescoed walls and mosaics from prestigious Roman dwellings, and a large coin collection. Highlights include the Boxer, the Discus Thrower, and the frescoed walls from the villa of Livia, wife of Augustus, frescoed between 30 BC and 20 BC.
The Boxer, mentioned above and shown in the photo below, deserves a bit more mention. At first glance, this 1st century BC bronze sculpture appears to be just a muscular man sitting down to rest. The only sign that he's a boxer is that his hands are covered by leather gloves which continue up onto his forearms. Then a closer look at his face shows that his cheek has a gash and there's a lump on his forehead, just below his hairline, from a recent pummeling. It becomes obvious that this man is rather old since his misshapen ears and multiply-broken nose suggest he's spent many years in the ring. His dejected look suggests that he's questioning why he continues going into the ring as the end of his career looms nearer and nearer on his horizon, and what he might to survive once it arrives.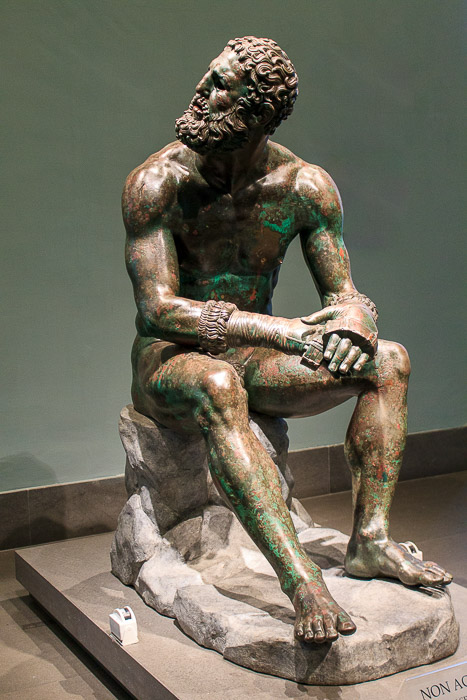 I found this museum to be an excellent way to spend a couple hours, with an interesting collection of history and art all described very well on signs in Italian and English. I would highly recommend this second-tier museum, assuming you've already seen the first-tier museums: Capitoline Museum, the Vatican Museum, and the Borghese Gallery. I found it to be the best of the four museums which are part of the National Museum of Rome.
Highlights of the museum are shown in the photos below.
---
If you'd like to support my effort in creating this web page, or own a copy of this site in Kindle format for offline usage, please buy my ebook (it's cheap, I promise), or my other ebook.
---
[Home] [Licensing] copyright (c) 2012-2021 by Jeff Bondono (email)
Please report bugs or send comments