---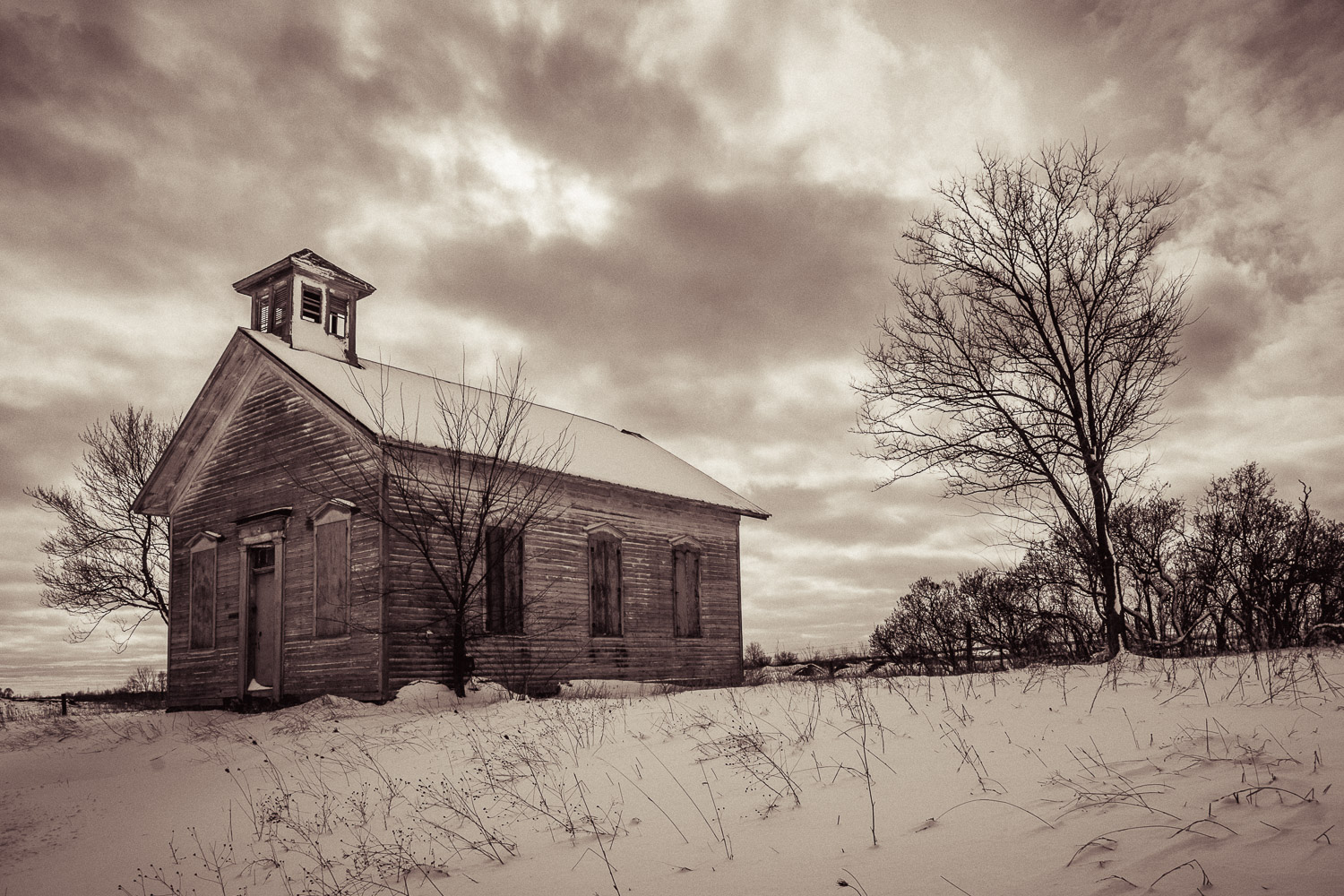 Thorington Schoolhouse
---
I've driven around Michigan (well, mainly Lower Michigan thus far) during 2012-2021 to photograph old one-room and two-room schoolhouses. My primary reason for doing this was to expose these schoolhouses to you, in the hope they'll be preserved if enough people see them and want them to be saved. If not, then at least my photographs might become a historical record for those that disappear silently, one by one (as Frog Mountain and Dryer have done just recently). I'd fantasized publishing a successor to Mary Keithan's superb "Michigan One-Room Schoolhouses" coffee table book, but I've decided it would be silly for me to pursue something that complex instead of the much simpler publication of this "Michigan Schoolhouses" web site. So here it is... photos from places destined to either crumble into the oblivion of history or, more hopefully, to be restored for historical education or modern re-use, along with whatever meager information about them I've been able to gather and communicate. I hope you enjoy perusing the site and find the photographs pleasing.
I've bolded the links for those schoolhouses I think are the most photographically worthy or for which I've been able to dig up substantial information, so you should start with those. I've provided GPS coordinates and/or addresses for the sites which are no longer active schools, and have not been converted into private residences (several schoolhouses, thank goodness, have been preserved by such a conversion) so you can go visit these sites for yourself in real life. If you live in metro Detroit, please see Geer School as a superb entry point into this exploration.
Once you view a particular schoolhouse's page, you can click any photo to make it larger, then click it again to put it back.
I've organized the list of schoolhouses into two sections: one by Michigan County Name (alphabetically), and the other list by the date the page was last updated on this web site, in case you want to follow along as I continue to build this site and update it with future visits, future discoveries, new information, or corrections.
Some of the information I've gathered about these schools is from the "Bess Britton One-Room Schoolhouse Collection" at the Webster Memorial Library in Decatur, Michigan, and I thank the library and librarian for granting me access to that information shortly before COVID-19 changed everything.
If you have any additional information about any of these schoolhouses, or know of a schoolhouse I've missed, please email me using the link at the bottom of this page so I can add it and preserve the history of these buildings for everyone. If you own one of these schoolhouses and want me to remove it's location information, or remove it entirely from this web site, email me and I will do so.
---
---
Allegan County
Arenac County
Barry County
Bay County
Berrien County
Branch County
Calhoun County
Cass County
Clinton County
Eaton County
Genesee County
Gratiot County
Hillsdale County
Huron County
Ingham County
Ionia County
Isabella County
Jackson County
Kalamazoo County
Kalkaska County
Kent County
Lapeer County
Leelanau County
Lenawee County
Livingston County
Macomb County
Midland County
Montcalm County
Muskegon County
Newaygo County
Oakland County
Ottawa County
Saginaw County
Sanilac County
Shiawasee County
St Clair County
St Joseph County
Tuscola County
Van Buren County
Washtenaw County
Wayne County
---
---